Drum Roll Please
......
And now ladies and gentlemen, the moment you've all been waiting for....
Elizabeth's halloween costume!!!!
In the picture above, it looks like my boobs are crooked, and that's cuz they are. But it wasn't like that at the ball. Thanks to
95SX
for letting me use this next picture, of STEVE and myself on stage at the 95SX halloween ball. We didn't win the 5 grand like we had hoped, but we did manage to make it into the top ten. Big shout out to steve for being a good sport and hoppin around in his skivvies.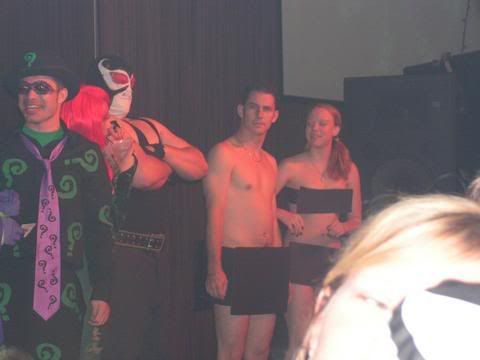 Steve admitted, it's not a great picture cuz you can see steve's undiepants, but we were in the top ten, which meant we went on stage in front of at least 600 people in nothing more but gafting tape and a bit of foamboard. I will have better photos as soon as i can talk steve into putting the little thing on again, but I thought he was cute, and a billion women told him that, too (it's his butt) and a lot of girls and a hoard of men thought I was too. I still think i'm marshmallowy, but that's my own accord. Steve went out to the car for about 15 mintues to fix a wardrobe malfunction, and in the first ten minutes i was standing alone, I had at least ten men come over and oggle my boobies, and hit on me. I just told them my counterpart was in the car, and they didn't beleive me i'm sure until we got on stage. Anyhow, all was fun in love and underpants, and NEXT TIME WE WILL WIN!!!