And the results are in...
*EDIT* Here are the pics of steve and I from the night we won. You can kindof see steve's shorts, but it's not a big deal. They called us on friday to set up an appointment for our trip, and I'm so exited I can hardly hold a thought in my head. That's the case 95% of the time anyway, but this time at least I have an excuse.
FIRST THINGS FIRST:
Beatrice was entered into the Pet's Mart
Howl-o-ween
cost
ume contest.
She won
FIRST PLACE
(a twenty dollar gift card) and had her picture taken. She was judged as a playboy bunny, and had NO problems flaunting her shell around all those big dogs. I am so proud of her. And her gift card is going to be used toward the new diggy we found for her that night at pets mart. She is happy, and got a treat of crickets as a reward for doing so good. She was the hit of the party.
Second thing:
Steve and I went to Nightmare on Calhoun Street party on Saturday night kindof just for shits and giggles. Both of us knew we wouldn't win because this was a bigger party, and going in, we saw many better costumes than ours (censorship.) We were bummed by this because we paid for our tickets this time, and they were kinda expensive. So we went in anyway, and walked around and admired the kickass
costumes we saw, and Steve had a few drinks. We had lots of pictures taken of us, and lots of comments. They had a projector screen on the wall of all the contest entrants. There were some sweet ass costumes. Anyway, so we were mullin around and they said, okay we're calling the top ten up on stage. (By the way, at this point, steve is obnoxiously drunk...) They called up all the best costumes, and then us last. Steve and i were really suprised. We got on stage and we were talking to each other trying to figure out what the prizes were. Third was some alchohol, second was a party and some alchohol, and we waited to hear what first prize was. Oh, a trip to New York. The announcer goes on about it and steve and I shrug it off because we didn't want to win that, we want to win $5000. We weren't going to win anyway.
So they announce the top three by projecting the winners on the wall. Number three was a KICK ASS version of the invisible man. He had a trenchcoat on, and a hat and glasses, but it was really well done. Number Two was a wolf with a bloody man coming out of his gut, and number one was: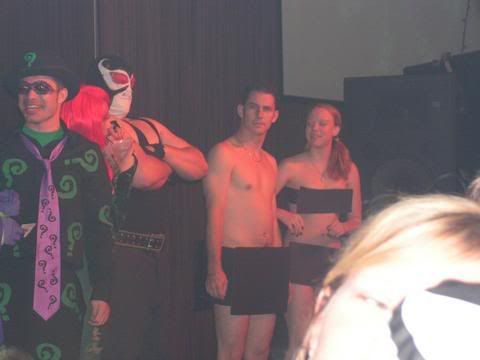 WE WON!!! WE WON IT! WE ARE GOING TO FRIGGIN NEW YORK HOLY SHIT!!!
Now, this wasn't the picture that was taken, but you should've seen the look on our faces. Neither of us could believe it. We seriously thought it was a joke. I couldn't believe it, and the crowd knew it. It was so much fun you guys. So steve and I are going to New York. If i don't kill him first.
HAPPY HALLOWEEN!