Feeling Bloggy
Well, I know I'm a lazy asshoooollle and haven't been blogging lately. But right now, I'm feeling like I finally have something to share. So I'm giving you all a chance to glimpse into the life of A....Well... Whatever you want to call me. :D
Work has sucked this week. *edit
So it's this shitty week of work that has put me in a position I don't like to be in. "Up in the air" as some formal scholars call it. I'm up in the air on what to do.
I'm remembering painfully as it may be, that Denver was difficult for me to live in. While I love it there, and always will, I remember that most of the time, it did not lend itself to my good mental health. Not only that, but it is drab there 7 months out of the year, and that was also difficult to deal with.
(south Carolina is green 12 months of the year.)
HOWEVER
Denver does allow me to be near my brother and sister(inlaw) and nephew. I cannot stand to be so far away from that. And, Denver has several colleges I'm interested in as far as getting back into the swing of things. And even better, Denver is also near Ft Collins and boulder which also have decent colleges and are not far from nephewbrothersisterinlaw but are in towns that are of manageable size for me.
So why am I telling you all this, AGAIN?
My mom.
Today my mom brought up a question to me that I had not thought about in ages, but have been thinking about for about a month.
"What exactly is preventing you from going back to the stage, and why did you stop?"
(Fast history lesson for those who don't know. I belong on stage. Period.)
Good question mom. And after I have been thinking about this for several weeks, and talking to her about it, (moms are the best for advice) it has occurred to
me that I'm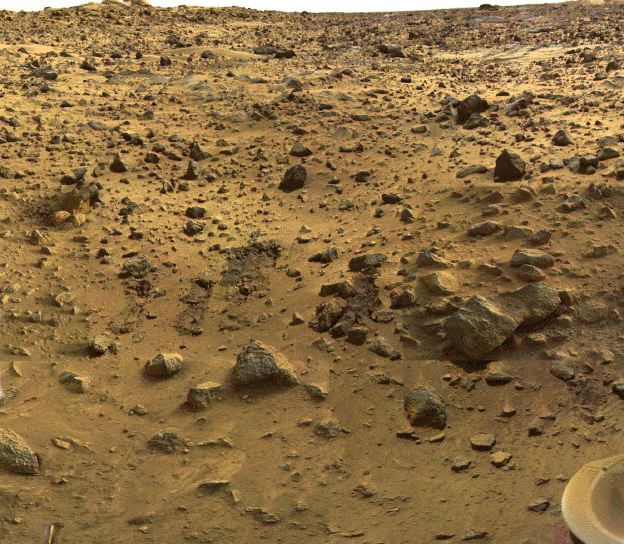 an idiot, and never should have left. I should have received the training I needed, because with the bare talent I've got, some training can't hurt, and I could probably go far with an education in it. And I was an idiot to let some asshole from bumfuck Wyoming let me feel the way I did and talk me out of theatre. OF COURSE I HATED IT BACK THEN!!! LOOK WHERE I WAS!! [adjacent picture is of mars surface, but most Wyomingnites recognize it as the road outside of Gillette.] Wyoming has the theatrical equivalent of a monkey picking his nose. I mean really, it is Wyoming. [And all you hardcore wyomingnites out there, you can kiss my ass because I tried working the Wyoming theatre scene since I understood what it was, and there is SHIT to be had there.]
SO what the hell goddess. Who fucking cares? This is my up in the air situation. I'm going back to the stage, like it or hate it. And I can think of about 20 people who will be glad to hear that news. But my little blue world turns upside down when I have t
o decide
what exactly to do here
. Do I stay in south Carolina, get a shitty education from a shitty community college I can afford try out for lots of plays, etc... Make as much money as possible, or do I pay out of my asshole for an online community college I can't afford get my associates online, audition for assloads of plays, take what I get, and move to Denver or Seattle, (or even better CORK *wink*) for school, and then move on? And from there what?! I'm up in the air here!!! And it's driving me nuts!!
Nobody cares about this shit, and I understand this. But this is a blog. Weblog. So, fortunately, in the Log [journal] part of blog, I'm allowed to spew useless information.
Millions of other people do it
. (ha) And this so shall be my first step of personal useless information. Maybe not the first step. Ok. Maybe this is like my 7th month or so of this step. But this is about as personal as I get on here. Most of my blog is about how shitty my job is, and how funny it can be. But this, my friends, is personal. This is seriously something I'm struggling with. Not to mention the 8,000 other things. Boys, money, school, parents, ind
ependence, self image [shut up], TURTLES, cats, and little boys at baseball games. I'm going to think about all of this. And I'm going to let you all in on the following events!
Starting with the demise of the once wonderful job. [evil laugh]