Be my confidant
Hospitality, specifically hotels, is an interesting ind
ustry to be working in. Standing behind this desk people will say anything to you. They will say anything to get something for free, to make you laugh, get you to empathise, and they will say anything to end lonliness and frustration. I am a friend, a psychologist, a confidant, and a relative. I have something in common with most, and am willing to listen to everyone. I don't see it as much here as I used to at the Shitty Red Roof Inn, but it does pop up occasionally.
Today I was adjusting a woman's bill for her, giving her a rate I knew to be incorrect, but gotta make the guest happy, and we were talking about Colorado. I have limited information about Colorado, and my memories of it are slipping away from me. But I still like people to know that there are parts of my heart that belong there.
She was telling me how she had been to my hometown and how it didn't hold a very good memory. I jokingly said, "Yeah, I lived there for 20 years, my bad memories could rival the empire state." She got a giggle. She was mumbling something, and said her husband had died when she returned home from the trip to my hometown that evening. She said he laid down on the couch complained of a headache, she went to the kitchen to get him s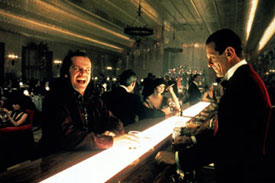 ome aspirin, and when she got back to him, he was gone.
My point is why is she telling me this? I am a stranger! I'll tell you why, it's because i'm a friendly face in a strange place, and sometimes thats the only comfort one can find.
There was a man, Mr. Hicks, at Shitty RRI who was a resident of the hotel. When I say resident, I mean he paid rent every month. We became good friends over time, and he listened as I told him about wyoming, and I listened as he told me about how life was back in the day. This man gave without
regret, and lived broke, which was how he liked it. He worked his ass off and all he asked for in return was a clean bed (which we provided) and a six pack of beer, which he provided himself. I never saw the man eat anything. Teeny little guy, too, but a heart bigger than Texas. If i were 45 years older, I probably would've loved him. He told me all about his wife who was a volunteer firefighter, and how he sat at her bedside during the last months of her life. He told me about how his house with all his posessions and memories of his wife was burned down by a pack of crackheads he gave a second chance. He came to me as a friend first, a customer second, and if it was late at night and i was alone, he would come in to the room and sit and talk with me. "Honey," he would say, (he always called me honey. I don't think he ever called me Elizabeth once, he knew my name, but always called me honey) "Honey, we gotta gitchoo a differn
t job. You're too smart to be workin in this shitshingled hotel." He was my first and finest friend in South Carolina.
And that's what I'm saying. These people come to me in times of sorrow and joy, and I get to share it with them. I'm not just serving them for an instant. If i get pissed at a guest, i have to see them for the le
ngth of their stay, which sucks for both of us. It's a relationship. No matter how short, you create a relationship. And from that little relationship, you can create a friendship. I set up a wedding suite for 2 guests and I affected the rest of their lives. It was an amazing feeling. I mean really, a person does not forget their wedding night. I loved doing that, and they had no idea it was coming. I did that for 2 guests at red roof inn, it was their wedding night, and all they could afford was red roof inn, and they had booked 2 double beds. I went and cleaned a king for them, and lit a candle (all i could find) and went across the street to the gas station and got flowers for them. They will never forget it. That was our relationship.
My friend steve was visiting on a business trip that would change the rest of his life. He was moving down here, and he got the guts up to come and talk to me after i had checked him in and he had been to his room. It's the relationship that started it. I checked him in, friendly, and kind, started the hospitality relationship and that's what made him decide to come back down. Well, that and his friend over the phone coaxing him into it. He stood and talked to me for probably 4 hours, and watched me check people in. And from that instant he came back down to talk to me, a friendship was created. Even if he was just trying to hit on me, it was still cool. And from that minute relationship i created with him at checkin, we have this great friendship.
And since there is no where to sit, all of my friends are very good at standing.